Magento Development Company
Magneto is an eCommerce platform that has emerged as a go-to shopping cart platform worldwide. Celestiq is a Magento development company that develops eCommerce platforms for businesses of all sizes.
Our Magento development services have benefitted businesses from wide range of industries. Retail businesses from industries like fashion, sports, groceries, furniture, etc. have been the primary beneficiaries of our eCommerce expertise.
Contact us to understand how we can help you pave a path to eCommerce success.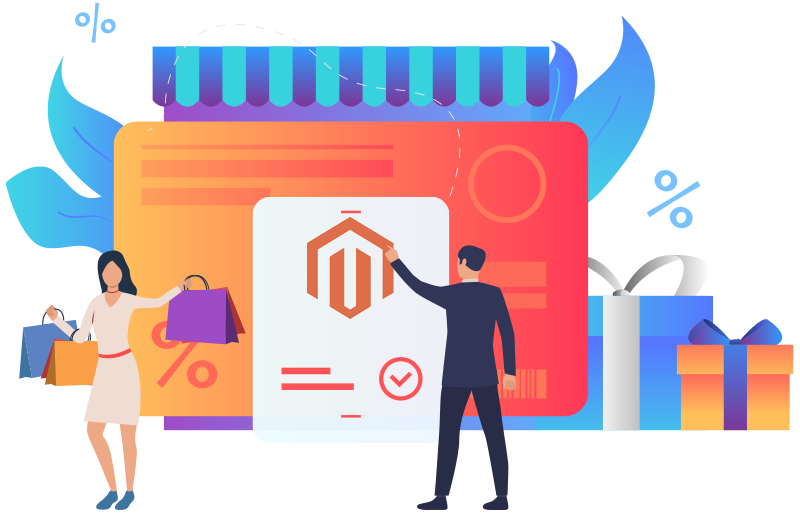 Magento Development Services
Magento Customisation
Use our Magento customisation services to develop workflows that align Magento with your unique use cases.
Magento Themes
We develop bespoke Magento themes with rich UI and UX. We develop themes that look pretty and deliver high performance.
Magento Extensions
Extensions are used to make the most of Magento platform. We develop custom extensions that extend the core functionality.
Magento Migration
Migration is required when moving a Magento from one host to another. Our Magento migration ensures smooth transition without any downtime.
Magento Security
Security is of paramount importance to all eCommerce websites. Our security experts protect your Magento website from numerous threats.
Magento Maintenance
Maintenance of a Magento website may seem overwhelming.  Our maintenance services keep Magento websites updated & secure.
Magento for B2C eCommerce
B2C / D2C eCommerce is where businesses directly sell to the end consumer. Small businesses like a local cake shop or a restaurant and large businesses such as Nike or Adidas operate mostly on B2C / D2C model.
Magento is a go-to solution for B2C eCommerce websites. Besides being incredibly feature rich, it's also quite simple to use. Furthermore, a B2C Magento website can easily be upgraded with new features using extensions.
Magento for B2B eCommerce
B2B generally stand for business-to-business sales, also called wholesale.  In B2B models, companies might prefer to sell products in bulk. Magento is a perfect choice to develop a B2B eCommerce website.
Magento has the best extensibility to support variety of business models. Features like bulk pricing, dynamic shipping rates, customer based price lists, and more can be used to suit the required business model.
Magento for Multi Vendor Marketplaces
Magento website can be configured for onboarding multiple vendors on eCommerce stores to improve sales. Vendor commissions can also be managed using Magento. In short, everything related to sales and vendor management can be done by using this platform.
Moreover, vendors can easily use this platform to manage all the orders, products and inventory themselves so that the option will be an added advantage in many places.
Industries
Magento is used by variety of industries to market and sell their products.
Coca-cola, a famous food product industry, has been using the services of Magento for running the website. Integrating the website with dealers' networks in coca-cola has also been powered by Magento.
Famous automobile manufacturer Ford has implemented AI and machine learning by Adobe Sensei, which allows them to personalize the e-commerce store according to the customers' preference.
The powerful API technology which is built into the platform makes this possible. Ford powers their website using Magento. The genuine accessories of Ford are sold by using this website, and controlling the overall dealers has also been made easy by using the same website. Other than this, Jaguar Land Rovers online website has been developed by Magento. So, various industries use Magento services in many places.
Magento Features
30+ versatile features tailored to your eCommerce needs.
Why Hire A Magento Development Company
Magento is a huge eCommerce software with great features and customisability. It is flexible and powerful enough to run large scale eCommerce websites with millions of products. A Magento development company can leverage its experience to get the maximum out of Magento's features.
An experienced eCommerce website development company like Celestiq can help you succeed in eCommerce. We can help you save time and resources by avoiding common pitfalls in your eCommerce journey.
Get in touch with us today to understand how we can help you realise your eCommerce dream.